Room 11608, Unit 1, Building C, Door of Metropolis, Tangyan South Road, New Area of High-tech District, Xi'an City, Shaanxi Province, China

+86-29-89305761

+86-29-89305769

brightway@brightwaysolids.com
Russian customized ZJ50LDB Mud System has been shipped
2015-05-25
Brightway ZJ50LDB Mud System in train track designed for the cluster oil drilling in Russian, has been shipped successfully.the System is used for matching with the Italy hydraulic drilling rig.
Brightway ZJ50 Mud System Shipment to Russia


This mud system is with the below features.
1. Totally 10 tanks and one MCC room, and the concerned 5 phases solids control equipments. Storage volume: 400 M3, Mud storage volume: 280 M3, Water volume: 120 M3.
2. Ambient temperature: -45 ℃-50 ℃.
3. With compact heating manifold which can be moved together with the tanks on the train track saving a lot of manifold disassembly and assembly work for the cluster drilling.
4. Standard and efficient winterization frame.
5. High standard MCC room for the overall electrical control on the drilling site.
The Italy hydraulic drilling rig is completely hydraulically driven, with high performances both in drilling and in work over activities, saving time during the rig-up and rig-down activity thanks to the lack of guy lines and bolts and reduces the personnel and the management costs.
The below is the layout for the drilling site including the rig, mud system, MCC, mud pump, air compressor, boiler, etc.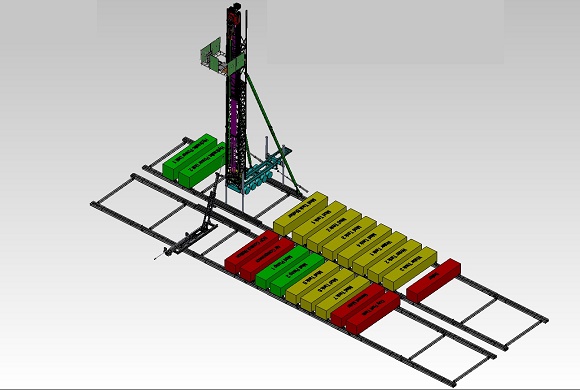 DRILLING RIG LAYOUT
The ZJ50 mud system includes solids control equipments as follow:
3 sets of shale shaker
1 set mud cleaner
1 set vacuum degasser
1 middle speed decanter centrifuge
1 high speed decanter centrifuge
23 sets mud agitator
4 sets of centrifugal pump
20 sets of heater
With the high level manufacturing standard in the solids control industry, this complicated mud system is produced in the consideration of humanization and work efficiency.
Brightway ZJ50LDB Mud System
Brightway customized MCC room for ZJ50LDB Mud System
As the professional solids control equipments manufacturer in China, Brightway is dedicated to provide the professional solids control solution to customers in the industries of oil and gas drilling, drilling waste management, HDD, Micro-tunneling, etc .
For the oil and gas drilling, Brightway can provide the full range of mud system from ZJ20 to ZJ 70. For HDD, the best popular mud systems are 350 GPM, 500 GPM and 1000 GPM. For Micro-tunneling, our mud system treatment capacity is from 80 m3/h to 375 m3/h.
We pursue the best performance and believe in the Bright future for both Brightway and customers.
Previous :Brightway New Type Mud Drying System tested successfully
Next :One set Cutting Dryer System shipment to Inner Mongoli