Mud Recycling System is the important Equipment matching for Horizontal Directional Drilling (HDD). Mud Recycling System is also called Mud Recovery System, Mud Circulation System. As the manufacturer of mud system in trenchless construction, Brightway have the mature mud treatment solution, and customized the BWHDD series Mud Recycling System for our customers.
Know more Types of Mud Recycling System: http://www.brightwaysolids.com/Mud-Recycling-System_d12
Know more Cases and Application of Mud Recycling System: http://www.brightwaysolids.com/category/news/11
Some Cases of Mud Recycling System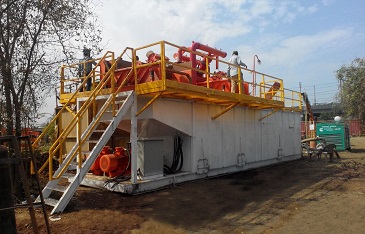 Brightrway Mud Recycling System structure
1.Combination of screening, desanding, desilting,Compact structure, easy for transportation and small footprint.
2. Foldable design of handrail and walkway. No dis-assembly is needed while transferred.
3. Fast connection is adopted for the components of equipment.Easy for dis-assembly, saving time and labor.
4. The process of the cyclones is the same with Derrick's and can be interchanged with each other.High wear-resistance and long life span under normal service conditions (more than 3,800 hours).
5. Explosion - proof lights are equipped. Meet the needs of the construction at night and easy and safe for operation.
Brightway Mud Recycling System performance
1.Capacity: 250GPM ( 60m3/h ) 500GPM(120m³)
2.BWZJ Mud cleaner is adopted. Achieve the effect of strong ability of mud treatment, winning the accuracy of 15 microns in solid -phase separation.
3.BWSB High - power centrifugal pump and it can perfectly match with the flow of the mud cleaner.
4. The system can fully adapt to the solid-liquid separation of different geological layers. Improve the operating efficiency and save the cost of the recycled mud.
According to different geological conditions and customers' requirements, Brightway can design and manufacture different sets of mud recycling systems to match with GD Drilling Rig. Welcome to consult and discuss. Your satisfaction is our eternal pursuit.
Brightway HDD Mud Recycling System Configuration Parameters