Welcome to Brightway Exhibition of Mioge 2015 in Moscow
2015-06-12
The 13th Mioge will be opened grandly in the Ruby International Conference and Exhibition Center of Moscow, on May 23th, 2015. The Exhibition is organized by Russia's department of energy, with areas about 57,020 ㎡ and predicted attendees over 30,000. Let's meet together at this historic moment.

Brightway is well prepared to get to Moscow of Russia on 20th June. At that time you will see our advanced Drilling Waste Treatment(or Drilling Waste Management) and learn more about more our company.
Mioge Exhibition information in details:
Name:
Moscow International Oil & Gas (MIOGE) Exhibition.
Address:
Ruby International Conference and Exhibition Center of Moscow
Time:
23th, June-26th, June 2015.
Brightway Exhibition information
Address:
Moscow Russia
Time:
June 23-26, 2015
Booth No:
F107 (
F Pavilion)
Main Products IN Exhibition:
1.BWZS Shale Shaker: Liner Shale Shaker, Drying Shaker, VFD Shale Shaker.
2.Decanter Centrifuge, Vertical Cutting Dryer.
3.Vacuum Degasser, Mud Cleaner, Desilter, Desander, Mud Agitator.
4.Centrifuge Pump, Shear Pump, Submersible Slurry Pump.
5.Mud Gas Separator, Flare Ignition Device.
6.Mud Tank, Oil Tank and other spare part of Solids Control System.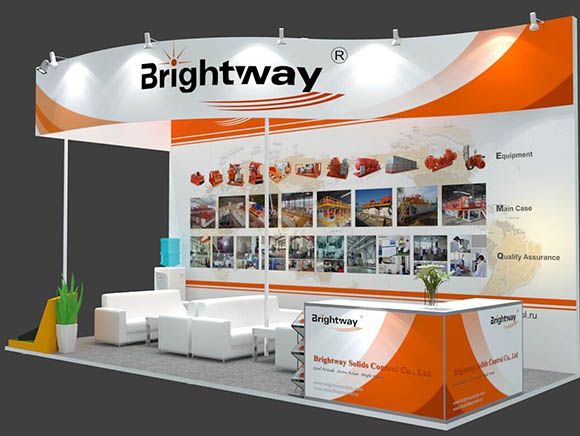 Brightway Booth No: F107
Exhibition Review:
We have harvest much in past exhibitions:
1. Brightway to CIPPE 2015 in Bejing of China.
2.
Brigthway to OTC 2015 in Houston of America.
Russia, located in north of Eurasia, is the largest country of the world which extends its land to Asia ans Europe. It is also the largest oil exporting country which abounds in petroleum and tourism resource. There are many famous places too, like Red Plaza and Kremlin.
As the Professional Manufacturer and Supplier of Solids Control Equipments and System in China, Brightway Solids Control can independently research and development, product, sell and provid service, and the products are applied to oil and gas drilling. HDD, CBM, Micro-tunneling, drilling Waste Management filed and so on.
Mioge 2015 is the best chance to take a trip and negotiate business and we are glad to have you at site of Booth No. F107 in Moscow of Russia, welcome!
Previous :Brightway New Technique of Processing Drilling Waste