Brightway 600GPM HDD Mud system to America
2015-04-08
One set Brightway 600GPM Mud control system matching with customer existing mixing tank
just is shipped to America for HDD rig.
According to the customer urgent requirement, Brightway finished the whole process from mud system discuse, design to production, assembly, and the test of the whole system.Customer is satisfied with Brightway's compact design, production efficiency and the process of communication.
The 600GPM HDD solids control system is designed as below:
600GPM HDD solids control system
The system is installed with following main equipments:
1. 1 set shale shaker, BWZS70-3P.
1)The motor is Italy OLI brand.
2)The electric components of electrical control cabinet are well-known brand as Siemens, Schneider or ABB .
BWZS70-3P shale shaker
2. 1set mud cleaner, BWZJ70-1S8N
1)Hydracyclone cone: Made of wearing-resist polyurethane and in the structure similar to Derrick design.
2)Inlet and outlet: Fast joint connection
BWZ3P-1S8N Mud Cleaner
3. 1set submersible slurry pump, BW100YZ100-30
BW100YZ100-30 Submersible Slurry Pump
4. 5sets mud agitator, BWJBQ11, 11KW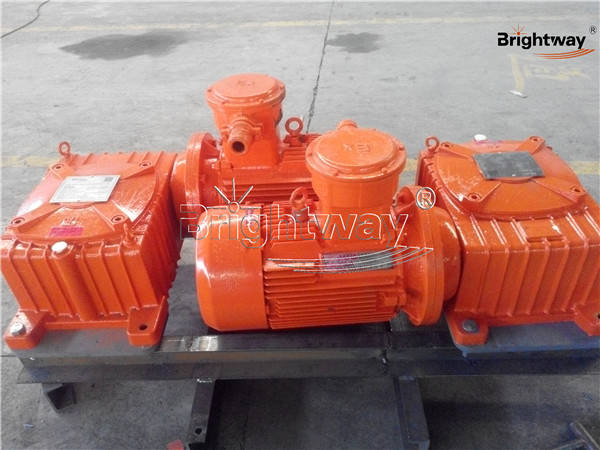 5. 2sets sand pump, BWSB5x4-13, 37KW
6. 2sets mud gun, BWNJQ50N
7. 1unit spare parts for one year              
8. 1 set mud tank                
Brightway produce the complete Solids Control System for HDD system including: 200GPM, 250GPM,400GPM, 500GPM, 550GPM and 600GPM.
For more Brightway HDD mud system shipments, kindly refer to the below link:
400 GPM mud system:
http://www.solidscontrolsystem.com/australian-customer-feedback-about-brightway-400gpm-mud-recycling-system/
500 GPM mud system:
http://www.solidscontrolsystem.com/brightway-500-gpm-mud-system-to-thailand-for-horizontal-directinal-drilling/
http://www.solidscontrolsystem.com/500gpm-hdd-solids-control-system-to-india/
1000 GPM mud system:
http://www.solidscontrolsystem.com/thailand-customer-feedback-on-on-site-service-of-brightway-1000gpm-mud-system/
We welcome customers all over the world to visit our factory for the win-win cooperation.
Previous :Brightway will attend the 19th CSTT Conference & Exhibition
Next :HDD120 Mud Recycling System became one of the highlights in CSTT Exhibition