A Set of Mini Water Recycling System shiped to South Africa
2015-07-15
Last week,Btightway sent a set of mini water recycling system ,which customized design for customers, to South Africa. This system is used for dewatering, cleaning the slurry and recycling the final clean water in gold mining project.
The Water Recycling System Details:
Capacity: 60m³/h
Main Equipment: 3-in-1 Mud cleaner
Mud tank: 4250mm length, with three compartment (shale shaker tank, tailings tank/desander tank, desilter tank)
Brightway Mini Water Recycling System
Features of the water recycling system:
1.Mini and compact structure design, small size, convenient for shipment (shipped by one unit 20 feet container)
2.3-In-1 Mud cleaner combined the shale shaker, desander, desilter functions in one equipment.
3.Customized design on some details:
Funnel shape tank bottom strengthens the flowing ability of slurry, preventing the deposition.
Flowmeter can measure the flow rate of slurry entering into the shale shaker.
Float ball valves helps to standardize the liquid level of shale shaker tank, tailings tank and desilter tank.
4.Easy transport and easy assembling on site.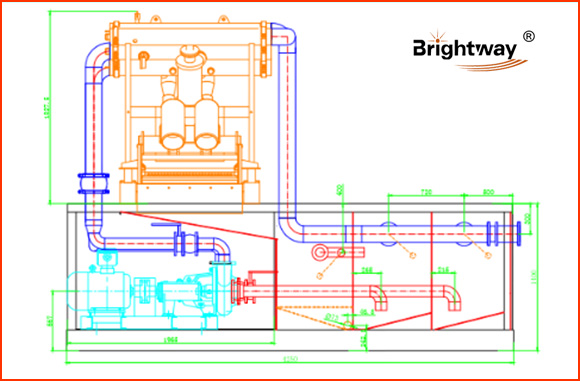 3D View of Brightway Water Recycling System
Brightway mud systems have been widely used in various industries, including oil/gas drilling, HDD, CBM, Micro-tunneling, foundation, mining etc. Our technologies and rich experience make us do better and better for clients.
Previous :Brightway Seminar: Harmless Treatment of Drilling Waste