Mud Mixting System for HDD Rig Gas Pipeline Crossing Project in China
2021-09-28
Recently, the construction of the Guangning-Shijian section of the high-pressure natural gas pipeline project undertaken by Xindi Energy has officially started. The mud mixing system produced by Brightway for the project has been officially put into operation, which is given high values by customers.
The high-pressure natural gas pipeline is a key construction project in the 14th Five-Year Plan, and it was proposed to meet the requirements of the national infrastructure construction and the development of the Guangdong-Hong Kong-Macao Greater Bay Area. At present, the project is divided into multiple sections. The 20th natural gas pipeline section was constructed by Xindi Energy. The project site is equipped with a 1,100-ton XZ11000 horizontal directional drilling rig, a mud-water separation and mud-mixing system. At present, the project has started directional drilling, and the supporting equipment is operating stably.
The mixing system produced by Brightway for this project is an important part in the field of non-excavation engineering. It is used with horizontal directional drilling rigs to achieve smooth pipeline laying, and to realize mud mixing, storage and recycling.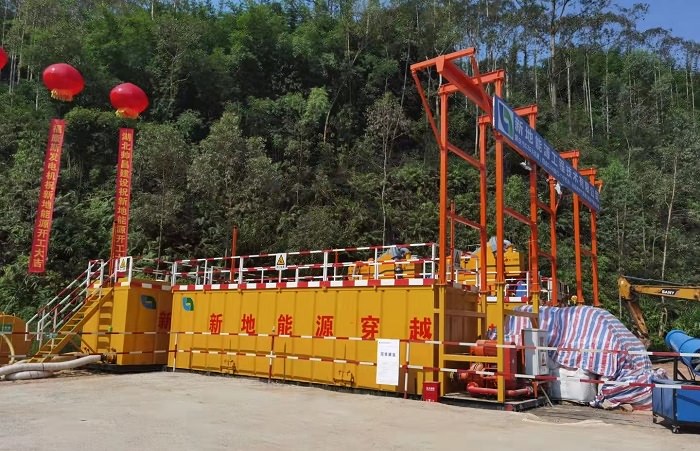 In the field of trenchless construction, Brightway focuses on the design and manufacture of mud purification and mud recovery processing equipment and systems, including mud water separation equipment, mud recovery equipment, mud mixing equipment, and mud drying equipment. At present, Brightway products have been widely used in 25 countries and regions around the world in urban construction, subway construction, pipe jacking construction, non-excavation horizontal directional crossing, piling engineering and so on. In this high-pressure natural gas pipeline crossing project, as the supplier of the mud system for the XZ11000 drilling rig, Brightway has been highly praised by the on-site users.
Previous :Brightway Wishes You a Happy Mid-Autumn Festival!