Brightway Held the Unveiling Ceremony of Oil&Gas Drilling Technology Center of Solids Control Equipment Successfully
2015-09-08
Good News! Brightway Held the Unveiling Ceremony of Oil&Gas Drilling Technology Center of Solids Control Equipment and Product Launch of Second Generation Vertical Cutting Dryer Successfully,on September 6, 2015.
Attending Guests:
Yuelang Liu, CEO of Brightway Solids Contol Company;
Junan Liu, Vice President and Secretary of China Petroleum and Chemical Engineering Research Council;
Shanwei Lv, Secretary General of Professional Committee of China petrochemical technology and equipment;
David Li, Chief Engineer of Halliburton Company;
Xunlian Si, Dean ,Professor, Doctoral tutor of Chemical Engineering Institute
from XI' AN Shiyou University;
Prashant Patel, Chief Engineer from India ONGC;
Mejar yaakub(B),The CEO of MMC Group Company from Malaysia;
and other important cooperation partners and industry professionals from USA, Malaysia, and India, and Russia, Beijing, Xinjiang.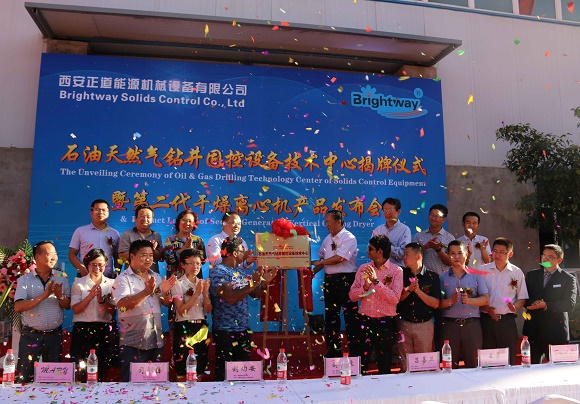 The success of the unveiling ceremony means that Brightway became the only Technology Center of Solids Control Equipment for Oil and Gas Drilling in China.It affirmed Brightway development prospects fully and the R&D capability of solids control equipment in the field of Oil&Gas Drilling,HDD,CBM Drilling,Drilling waste .
Brightway CEO Mr.Liu said that Brightway will continue to increase investment of product development and improve the products quality and supply the highest quality products for the customers.Meanwhile,Brightway will also increase overseas investments and introduce top talent.
Establishing Technology Center of Drilling Solids Control Equipment will put forward higher requirements of product development innovation,quality service and Brand guarantee.Establishing Technology Center of Drilling Solids Control Equipment will also promote the comprehensive strength of Brightway to a new level and improve Corporate core competitiveness and share of market.It will be a milestone in the history of developing and manufacturing of solid control equipment and systems.
Previous :Principle of The Mud Recycling System