BRIGHTWAY ZJ50LDB Solids Control System on Train Track Design Working in Polar Low Temperature Environment-Siberia, Russia
2015-12-04
Brightway professional service team have finished the 15 days commissioning work successfully for the ZJ50LDB solids control system on customer drilling site in Siberia, Russia. This mud system is for the well-known oil drilling company in Russia with automatic hydraulic rig fleet made by Italy famous rig manufacturer.
Brightway ZJ50LDB solids control system
With the ambient temperature about -45℃, Brightway team overcome all the difficulties to actively coordinate and instruct the complicated system assembly until passing the pilot test by customer, which got the respect and compliment from the customer's drilling manager, mechanical engineer , electrical engineer, and the workers on the site.Brightway team also provided the professional training on the site for the equipment operation and maintenance to customers.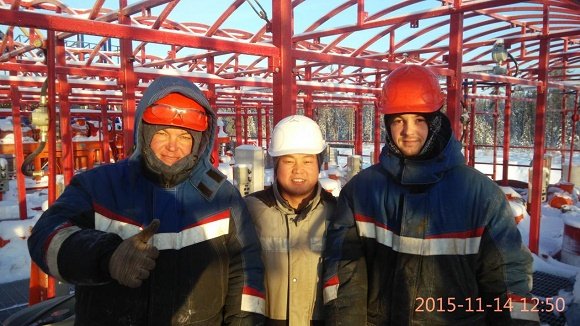 We are proud of providing the professional solids control system to be used in the severe atmosphere in Siberia, which is composed of mechanical mud system and the MCC general electrical control room.
The mechanical mud system is with spotlight for the compact heating manifold design which saves a lot of assembly and disassembly for the cluster well drilling on the train track, for the standard and efficient design of the winterization frame, for all the material to meet the low temperature requirements, for the well organized layout of all the manifolds and the equipments as below:
3 sets of shale shaker
1 set mud cleaner
1 set vacuum degasser
1 middle speed decanter centrifuge
1 high speed decanter centrifuge
23 sets mud agitator
4 sets of centrifugal pump
20 sets of heater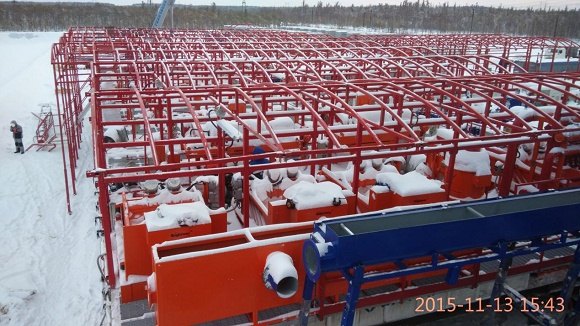 The MCC room is with 7 electrical cabinets with below characters.
1)All with ABB electrical elements
2)Soft starter for the main equipments with wattage above 30 KW
3)Easy for maintenance on the front and back sides
4)All the cables are anti-low temperature
Brightway MCC Room
Brightway team is united, focus and active. We believe that our product can tell the quality itself, and looking forward to cooperate more customers all over the world.
Previous :Sinopec Leaders Came To Visit Brightway
Next :Shipment interchangeable shaker screen with Derrick to UAE