Room 11206,Suite D,City Gate,High-tech Zone,Xi'an China

+86-29-89305761

+86-29-89305769

brightway003
How to separate mud form bored piles drilling?
2017-08-10
How to separate mud form bored piles drilling? This is a difficult problem in the construction of bored piles. Traditional mud treatment solution is mud precipitation method using mud pools. In the process of drilling hole, using screen mesh to separate the small gravel, sand and other solid particles from the mud. Drilling mud form piling dischaged into the first pool, then into second pool and third pond, and precipitated adequately. After natural dehydration solidifies, The waste from the pool will be transported to the storage yard. This method is suitable for cleaning a small amount of mud.
At present, there are two solutions: Solution One: The mud is pumped into the tanker truck and then transported to the designated place. the large area of mud and high cost. Solution Two: After dewatering, the water can be reused ( washed the truck ), and the mud can be removed and made bricks, the mud will be reduce by half at least .
Brightway recommend the second bored piles mud treatment solution, Choose special mud separation equipment -bored piles desanding plant to solve problem which the great amount of mud is diffcuty to separate from for may piles effectively.
Brightway bored piles desanding plant working principle:
The piling desanding plant used of vibrating screen and cyclone desander sieve filtration principle, under the action of vibration force at high speed, large size sludge were filtered, and the clean water separated from sludge back to the mud recovery tank, the waste slurry will be discharge d form shaker and transported by the loading vehicle , the filtered water will be reuse again.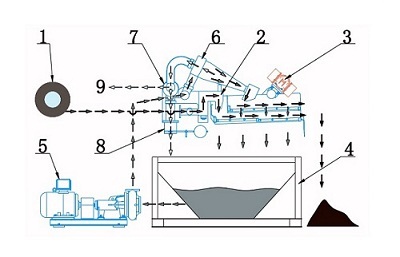 The piling mud separation equipment has the advantages that traditional equipment does not have:
1. Small equipment, convenient to move, more convenient operation,
2. Low equipment cost, high efficiency, low maintenance cost;
3. The treated sludge slurry is dry and convenient to transport and speed up the progress of the project;
Previous :Shipment of 1000GPM Mud Recycling System