Brightway Mud Agitator Advantages
Brightway mud agitator equips with a motor couple to a rugged oilfield gearbox, which can eliminates troublesome couplings, misalignment and have a longer bearing life. And it is driven by the explosion-proof motor, coupled to a gearbox which will drive the impeller shaft. Due to the simplex turbine structure of shaft, Brightway mud agitator is featured by compact construction, light weight, balanced transmission, small footprint, low noise and high efficiency. And its impeller turbines can transform the mechanical power into drilling fluid agitation as well as circulation.
Brightway mud agitator can be designed per customer's requirement to choose the helical-bevel design or worm design for reduction gearbox. Its motor can be horizontal or vertical. As for the shaft and impeller, compared with painting process, the galvanizing treatment is usually adopted to create a better anti-rust performance. Brightway mud agitator can be customized once we get the detailed requirements. Buying mud agitator from Brightway will be your best choice for drilling mud circulation system.
Brightway Mud Agitator Display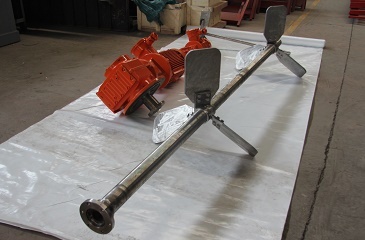 Brightway Mud Agitator Parameters